Homepage
Tarzan Elmo Lincoln
Tarzan Elmo Lincoln 2
Tarzan Gene Pollar
Tarzan P Dempsey Tabler
Tarzan James Pierce
Tarzan Frank Merrill
Tarzan Frank Merrill 2
Johnny Weissmuller Site
Tarzan Buster Crabbe
Tarzan Herman Brix
Tarzan Herman Brix 2
Tarzan Glenn Morris
Tarzan Lex Barker Site
Tarzan Gordon Scott Site
Tarzan Denny Miller
Tarzan Jock Mahoney
Tarzan Jock Mahoney 2
Tarzan Mike Henry
Tarzan Mike Henry 2
Tarzan Miles O'Keeffe
Tarzan Christopher Lambert
Tarzan Casper Van Dein
*Tarzan Kellan Lutz*
Tarzan Alexander Skarsgard
Tarzan TV: Ron Ely
Tarzan TV: Ron Ely "movies"
Tarzan TV: Joe Lara
Tarzan TV: Wolf Larson
Tarzan TV: Travis Fimmel
Tarzan Cartoons
Unauthorized Tarzans
Unauthorized Tarzans 2
Tarzan movie - TV lists
Tarzan of the Novels
Me Tarzan You Jane 1
Me Tarzan You Jane 2
Me Tarzan You Jane 3
SITEMAP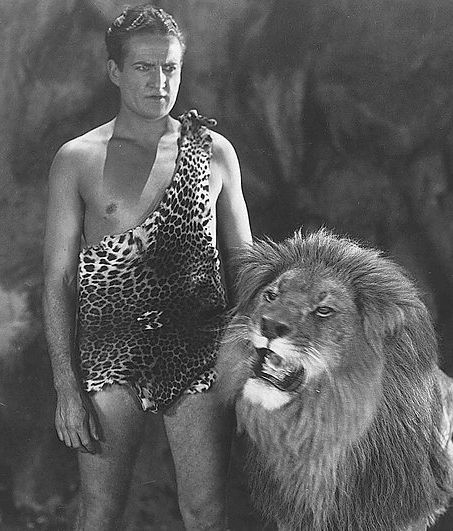 James Pierce, who married Burroughs daughter, was the next Tarzan in
Tarzan And The Golden Lion. (1927)



American and French title cards
TARZAN AND THE GOLDEN LION (1927)
Cast: James Pierce (Tarzan), Dorothy Dunbar (Lady Greystoke), Frederick Peters, Edna Murphy, Harold Goodwin, D'Arcy Corrigan, Boris Karloff, Robert Bolder. Directed by J.P. McGowan; screenplay by William E. Wing based on characters created by Edgar Rice Burroughs. PLOT: Flora Hawks is in love with the overseer of Tarzan's African estate. After a search for a legendary city of diamonds, Tarzon races with his pet lion Jad-bal-ja to save Haws from being sacrificed to a lion-god.