Homepage
Tarzan Elmo Lincoln
Tarzan Elmo Lincoln 2
Tarzan Gene Pollar
Tarzan P Dempsey Tabler
Tarzan James Pierce
Tarzan Frank Merrill
Tarzan Frank Merrill 2
Johnny Weissmuller Site
Tarzan Buster Crabbe
Tarzan Herman Brix
Tarzan Herman Brix 2
Tarzan Glenn Morris
Tarzan Lex Barker Site
Tarzan Gordon Scott Site
Tarzan Denny Miller
Tarzan Jock Mahoney
Tarzan Jock Mahoney 2
Tarzan Mike Henry
Tarzan Mike Henry 2
Tarzan Miles O'Keeffe
Tarzan Christopher Lambert
Tarzan Casper Van Dein
*Tarzan Kellan Lutz*
Tarzan Alexander Skarsgard
Tarzan TV: Ron Ely
Tarzan TV: Ron Ely "movies"
Tarzan TV: Joe Lara
Tarzan TV: Wolf Larson
Tarzan TV: Travis Fimmel
Tarzan Cartoons
Unauthorized Tarzans
Unauthorized Tarzans 2
Tarzan movie - TV lists
Tarzan of the Novels
Me Tarzan You Jane 1
Me Tarzan You Jane 2
Me Tarzan You Jane 3
SITEMAP

Steve Hawkes, probably the best of the unauthorized "Tarzans"

John Cawas was one of the very first unauthorized apemen in Toofani Tarzan in India.(1936) aka Typhoon Tarzan, Stormy Tarzan.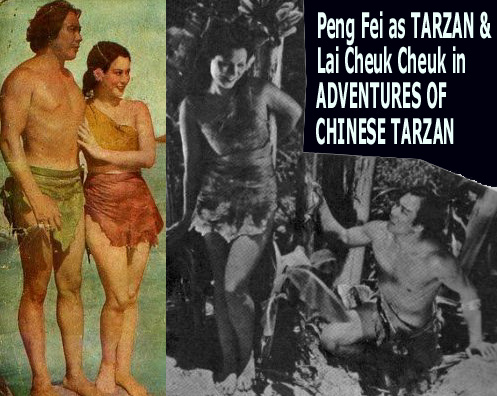 Peng Fei co-starred with Lai Cheuk Cheuk in one of the early unauthorized Tarzan films, The Adventures of Chinese Tarzan (1939)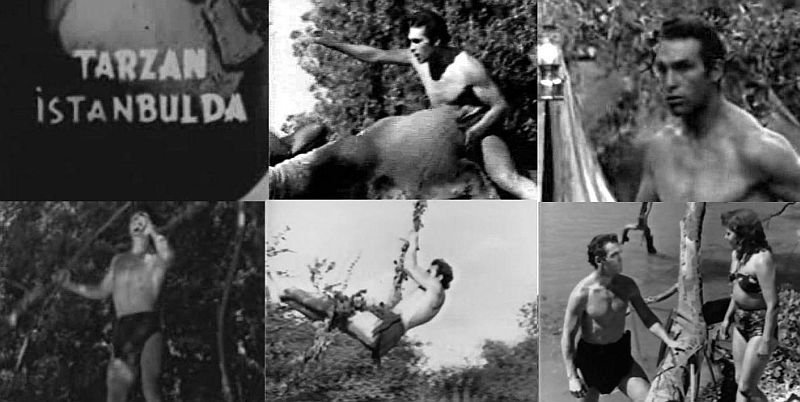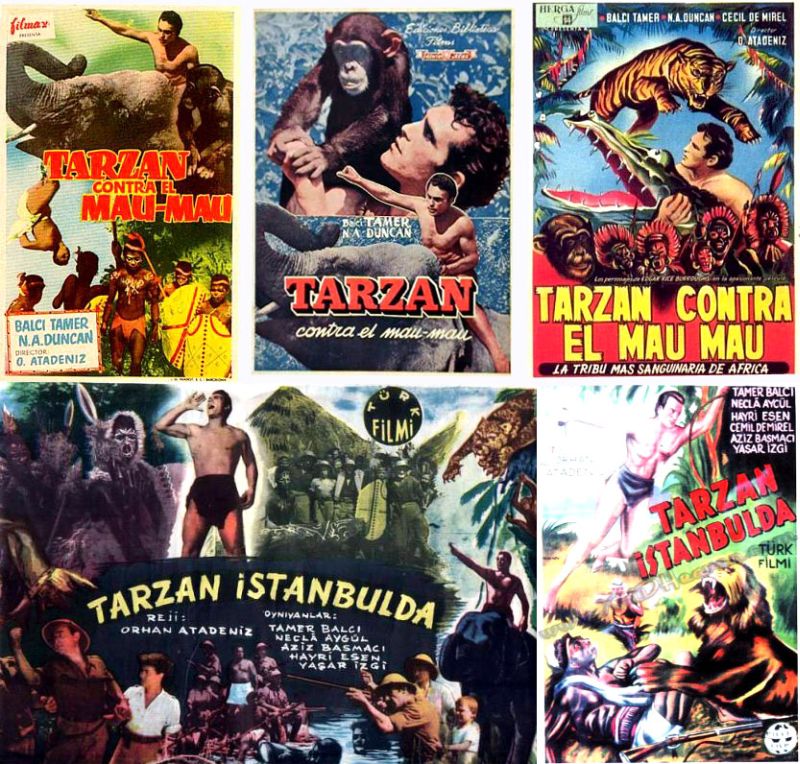 Tamer Balci in Tarzan Against the Mau Mau (also known as Tarzan Istambulda, 1952)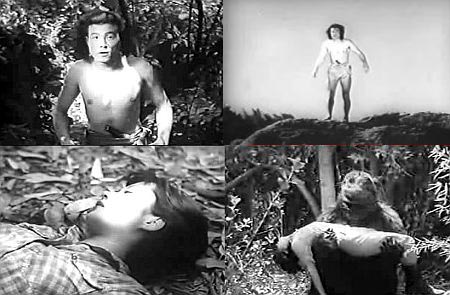 :In 1955 Japan made a movie based on Tarzan called BURUUBA starring Yoshihiro Hamiguchi, Osamu Maruyama and Woody Strode.
Mahendra Kumar played "Tarzan" in LOVE IN THE JUNGLE in 1959.
| | | |
| --- | --- | --- |
| Joe Robinson made an Italian "Tarzan" film, Tarzan Roi De La Force Brutale. The Burroughs' estate threatened a lawsuit so the name was changed to Thaur. (1963) A sequel was made called Thor and the Amazon Women | | |
| | | |
| --- | --- | --- |
| Anthony Freeman (real name Mario Novelli) had the lead role in Per una manciata d'oro (also known as Tarzan Y El Tesoro Escondido (Tarzan And the Hidden Treasure), in 1965. | | |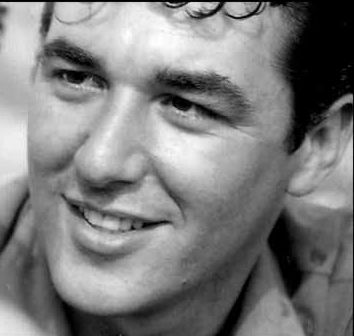 Jungle Tales of Tarzan (W. Germany) was to star Joe "Brick" Bardo as Tarzan (with Carolyn Brandt); the Burroughs estate stopped production of the film. Filmmakers thought the Tarzan name was in the public domain in 1964 but that turned out to be false.(Photo of Bardo from Peter Gowland collection).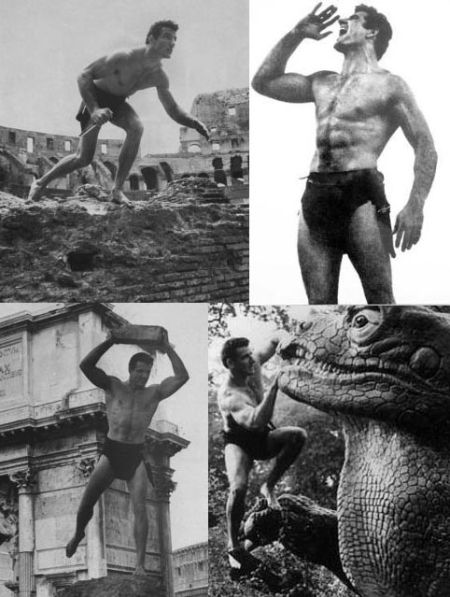 Don Bragg was an Olympic pole vault champion who starred in Tarzan and the Jewel of Opar,
a 1964 movie that was never released because of litigation.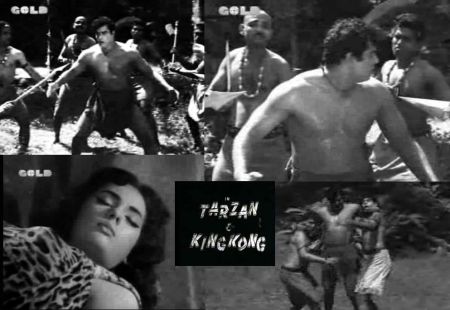 Randhawa (as Tarzan); Mumtaz(1965) Tarzan and King Kong



Dara Singh stars as Tarzan in the 1965 production
of Tarzan Comes to Dehli.
Ralph Hudson starred in a foreign "Tarzan" film in 1967,
Tarzan Contra Los Hombres Leopardo
(Tarzan VS the Leopard Men.)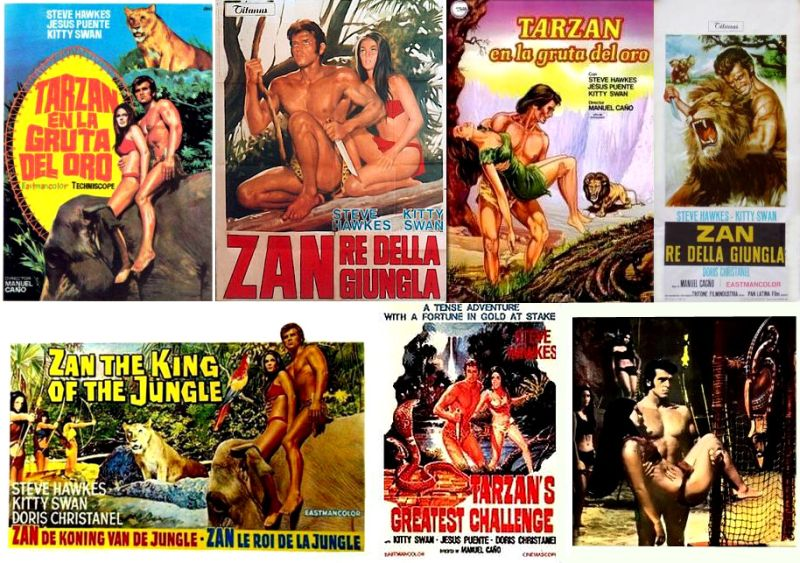 Steve Hawkes starred in two Tarzan movies:Tarzan en la Gruta del Oro
(Tarzan in the Golden Grotto, Tarzan's Greatest Challenge, Zan, King of the Jungle 1969.)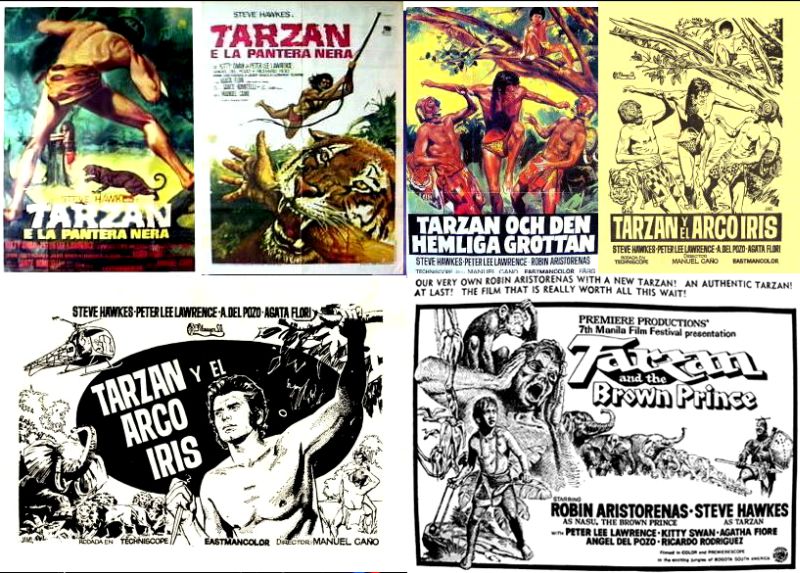 Steve Hawkes' second Tarzan film was Tarzan y el Arco Iris ( Tarzan and the Brown Prince, Tarzan and the Rainbow 1974).